Mitsubishi Ductless
WHY CHOOSE MITSUBISHI DUCTLESS SYSTEMS?
Systems for All Climate Types
Whether your home is in a hot or cold climate, you can end the struggle of cost vs. comfort.
– Uses only the exact amount of energy needed to maintain comfort
– Adjusts automatically to changing conditions
– Very easy to maintain
Mitsubishi Ductless: How It Works
Easy Installation
The ductless air conditioning systems are easy to install with no disorder or disruption to your life.
Different indoor unit style options are available to meet any need
The ductless air conditioning system outdoor units, which have a small footprint and can be hidden by foliage, complete the system.
Whole house or room-by-room air conditioning and heating options
Typical installation
One of the great features of the Mitsubishi ductless air conditioning system is its ease of installation. There is little to no ductwork required so you don't have to worry about a disorder in your home interrupting your life or costly remodeling expenses. The sleek, ductless air indoor unit mounts discreetly within the space, and a pair of small refrigerant lines plus power and control wiring, connect it to the outdoor unit through a small three-inch opening in the wall.
Different styles of indoor units
Ducted style
When a ducted model is selected as the indoor unit that best fits your need, it can easily be installed either in the ceiling or beneath the floor in a crawl space or basement. This style accommodates the use of short duct runs and registers to deliver and return air from the interior space, back to the unit.
Wall-mounted style
A wall-mounted ductless unit mounts high on a wall and is unobtrusive to the visual area within a room. The wall unit models are a neutral white in color and have features that enhance their functions within the space.
Ceiling Recessed Cassette Style
When installed, the flush-mounted grille is all you see. With its fresh air intake capability and four-way discharge airflow, the PL series ceiling cassette gives you plenty of fresh, comfortable air.
Outdoor units complete the Mitsubishi ductless air conditioning and heat pump system. The outdoor units for each of the systems have a small physical footprint to take up as little space outside your home as possible and can be hidden by foliage.
Energy Efficient
Mitsubishi Electric cooling & heating systems use advanced technology to save you money.
– More energy efficient than traditional HVAC systems
– 40% more efficient than standard window units for cooling
– Heating performance far superior to traditional heat pumps
Mitsubishi Mr. Slim Ductless Air Conditioner Technology – The Quiet solution
The M-series Mitsubishi Mr. Slim 20 SEER (24,000 Btu model is 17.5 seer) ductless air conditioner heat pump systems (also known as a ductless mini split) with R-410a refrigerant are perfect for use in residential and light commercial applications. Whisper-quiet and extremely reliable, ductless air conditioners go where ductwork can't – Computer and phone rooms, room additions, music studios, and small offices, to name just a few.
For many years, ductless mini split air conditioner systems have been the quiet solution for cooling and heating problems around the world. The popular, proven and industry bestselling Mitsubishi Mr. Slim ductless air conditioning systems have two basic components: an easily installed indoor and outdoor unit.
Mitsubishi Ductless Air Conditioning Systems Makes Cooling a Breeze
The indoor wall mounted units deliver enough cold or warm air to make any space more comfortable. Adjustable swing louvers direct the airflow left or right, covering the entire space quietly. The Mitsubishi Mr. Slim split ductless air conditioners are the perfect addition for:
Guesthouses
Music studios
Porch or garage apartments
Computer and telephone rooms
Loft apartments
Small offices
Garage apartments
Attic enclosures
Rental efficiencies
Small 2 or 3 room homes
A ductless mini split air conditioner system is similar to a central system in that the compressor is outside, eliminating the noise associated with wall-type units. The indoor section is extremely quiet and simply surface-mounts on the wall. Best of all, the sleek contemporary styling of the indoor section will not detract from the decor of its surroundings.
Increased Flexibility with Multi-Zone Operation
The Mitsubishi ductless air system is perfect for schools, hospitals, and homes where multiple room heating and cooling is desired but ductwork is impractical. The Mitsubishi Mr Slim ductless air conditioner heat pump unit is truly flexible to meet your specific needs.
Outstanding New Features
R-410a refrigerant is a totally friendly, non-ozone depleting refrigerant, making smaller, more energy efficient systems practical. Mitsubishi ductless air conditioners are fully compliant with new federal refrigerant regulations
Anti-allergy Enzyme Filter uses artificial blue enzyme catalyst on the filter filaments to capture harmful microbes
Hybrid Catechin Pre-filter fibers are infused with a bioflavinoid found in green tea that has antiviral and antioxidant properties
A-Control for Unit Wiring allows communication and power between outdoor and indoor units on only 3 wires
Inverter driven DC Compressor operates at high efficiency with outstanding reliability
Pulse Amplitude Modulation (PAM) Control aligns electrical input wave to improve and condition the electrical power factor up to 98%
Low-ambient Cooling allows for efficient cooling operation with outdoor temperatures as low as 14 degrees F
Ductless Air Powerful Mode provides 15 minutes of extra high power cooling or heating
Plus: " Econo Cool" mode, 1 degree F step temperature setting, self-diagnostic function, swing mode (up and down), auto-restart, dry mode, and auto cool/heat changeover
You Won't Believe Your Ears
Is it on? That's the first thing our customers ask when their new Mitsubishi air conditioning unit is started up for the first time. In fact, the computer on your desk may make more noise than the low speed fan setting on most Mitsubishi ductless air conditioning systems. With indoor decibel levels of as low as 22Db, you won't even be able to tell when the system is actually operating.
To put this in perspective, a human whisper is in the range of about 40Db and a quiet refrigerator is around 48-55 Db. A decibel rating of 22 is inaudible even at very close range. You simply cannot buy a quieter system.
Super High Efficiency SEER Ratings of 20.0
We all know what air conditioners and heat pumps can cost to operate but forget everything you know and consider the penny: That's right the penny. Because as few as 5 of them will get you one hour of comfort with this new Mitsubishi ductless air conditioner system.
Bask in 100 hours of comfort for as low as $5.10 – that's just .05 cents per hour!
That means the energy required to provide the comfort you deserve is more affordable than ever .
Imagine never having to worry about high power bills again; just dial in a comfortable setting and walk away. In fact, with SEER ratings of 20.0, the Mitsubishi Mr. Slim ductless air conditioner heat pump is one the most efficient and cost-effective systems you can buy . Mitsubishi engineers designed these systems to provide peace of mind from both a comfort and energy standpoint.
*Operating cost estimates based on a nationwide average of .10 cents per KW of energy usage. Your actual costs may vary. Hourly cost estimate is per zone.
Advanced Inverter Technology: By controlling compressor rotation speed precisely, the innovative Inverter Technology offers exceptional performance and reduced energy consumption for maximum savings and comfort.
High Speed Heating and Cooling: The air conditioning compressor rotation speed is controlled according to the cooling and heating demand of each zone. Maximum comfort is achieved by flexibly controlling compressor speed to accurately match operating requirements. During the winter season when outside temperatures are low, compressor rotation speed is set 1.5 times faster than conventional models for rapid and higher heating performance. The desired temperature can be reached and maintained more effectively.
Bottom line? The Mitsubishi mini split ductless air conditioning inverter system will out-perform a standard ductless heat pump by maintaining up to 82% of its rated heating capacity all the way down to 17 degrees Fahrenheit. At this temperature ordinary heat pumps produce very little heat (less than half of their rated capacity in most cases) and need to be supplemented with another heating source to keep you warm.
Extra Energy Savings: Energy consumption is automatically lowered when less capacity is required, reducing operating costs by up to 50% when compared to non-inverter models.
Optimum Year Round Comfort: To ensure that a room is never too hot or too cold, advanced inverter technology allows the ductless air system to detect subtle fluctuations in room temperature and adjusts compressor rotation speed automatically.
Unlike conventional air conditioning/heating systems that stop and start repetitively, the Mitsubishi Mr. Slim Inverter Technology allows more precise temperature control and far less temperature variations.
The Hottest Thing In Cooling
Mitsubishi Electric is the undisputed industry leader in split ductless air conditioning and heating technology. The versatility and variety of applications is virtually unlimited. Perhaps you have an older home or business that was built before ducted air conditioning became available and you desire the comfort and humidity control provided by air conditioning and heating.
The Mr. Slim split ductless air conditioner system is the perfect answer for spot cooling or heating uncomfortable hot or cool rooms without the expense associated with a traditional centrally ducted system. Proven performance, long-term reliability and ease of installation make the Mr. Slim M-Series ductless air conditioner and heat pump by Mitsubishi the smart and cost effective choice.
Unsurpassed Reliability
Mitsubishi Electric is world-renowned for the quality and durability of their split ductless systems. In fact, we have never encountered a more dependable heating and air conditioning system, period. Our warranty experience with these systems is outstanding and second to none. Our customers are ecstatic with both the quality and performance of their Mitsubishi ductless air conditioner system, each and every time.
The Mitsubishi Mr. Slim unit is designed to be one of the most reliable air conditioners you can buy. In fact, every major component is designed and manufactured by Mitsubishi so the system provides highly reliable operation that is only possible when all components are purpose-designed and built to work in harmony. The air conditioning and heating industry experiences an average failure rate in the United States of about 4%, or about 4 system failures for every 100 units built. The Mitsubishi Mr. Slim enjoys a failure rate that is only one-eighth of the industry average, or one-half of 1%. This means that Mitsubishi will need to produce about 800 systems to experience the same 4 failures. That's quality the way it should be.
You may find a system that is slightly less expensive upfront, but nobody beats Mitsubishi's total overall cost benefit that comes from rugged durability, parts availability, and ease of installation.
No Ductwork Needed
Mr. Slim ductless air conditioning and heating systems need no ductwork. This means easy installation and less mess.
Wireless Remote Control
Mitsubishi Mr. Slim includes a wireless control center that offers complete control and easy to use functions that don't require an advanced degree to operate. These functions include a two-speed fan operation, Cool, Heat, Auto, and Dry operating modes and a programmable 24-hour timer for convenient, customized cooling on/off periods. The self-diagnostic LCD display quickly detects malfunctions and even pinpoints the location.
Service is a Snap
All Mitsubishi mini split air conditioning outdoor units are designed with easy service and maintenance in mind. Service points are located behind easy-access panels to make installation easier for your service technician. All M-series indoor units feature a washable filter design without filter replacement headaches.
Comfort Control
Transforms one room, or as many as eight, into a comfortable living space regardless of available ducts or windows.
– Utilizes wireless thermostat capability to link your wall-mounted control with your PC, smartphone or tablet
– Delivers comfort & energy efficiency
– Ideal for areas requiring extra heating & cooling
Advanced Technology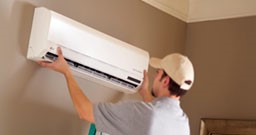 Our INVERTER-driven compressor maximizes efficiency by automatically changing its speed to match the cooling and heating needs of a room.
– I-see Sensor(TM) automatically detects ceiling & floor temperatures and makes necessary temperature changes
– Unit doesn't start & stop repetitively, eliminating temperature variations & wasted energy
Service is a Snap
All Mitsubishi mini split air conditioning outdoor units are designed with easy service and maintenance in mind. Service points are located behind easy-access panels to make installation easier for your service technician. All M-series indoor units feature a washable filter design without filter replacement headaches.
How Do I Know What Size to Select?
Use our handy ductless air sizing calculator located here. This calculator will provide an estimate as to the size needed for your application. If you are still unsure, have a local contractor visit your job site for a thorough analysis of your needs. For residential homes that are well insulated about 15-20 Btu's per square foot is normally sufficient. For the top floor in a multi-story home about 25-30 Btu's per square foot is required.
Standard office spaces with an average number of occupants and office equipment will require around 35-40 Btu's per square foot. If there are no outside exposed exterior walls this can be reduced by about 20%.